Hey everyone! Today I am back with another installment of my Rulebook Preview series. In this series, I take a look at tabletop games that have not yet been released or have been very recently released. I have not played these games, but simply reviewed the rulebooks (hence Rulebook Preview). Anyway, without further ado, here are 4 new games that you should keep a lookout for!
Conspirator

Conspirator is a very neat social deduction game for 8-35 players. This game has actually been published through The Game Crafter's print-on-demand service. For those who don't know how this works, people can buy print-on-demand games and the manufacturer will make a single copy right then and there. This can be a bit more expensive than large print runs, but it turns out that this can be a sustainable model as there is no risk of over printing or under printing.
Anyway, in Conspirator most of the players are Citizens or have special roles and are "good," while there are a couple of "bad" Conspirators, who aim to kill everyone else. You would be forgiven from thinking that this game is a clone of Mafia, but there is a key difference: instead of a democratic vote to lynch a particular player, there is a Monarch who makes the sole decision for who to lynch. The Monarch is revealed at the very beginning of the game so that everyone including the Conspirators knows who he is. The Monarch is invincible, so the Conspirators must kill all the Citizens except the Monarch. This introduces an interesting twist on games like Werewolf and Mafia, and I quite like this change as I would imagine this would speed up the game quite a bit. I believe it would also make the game a lot more organized and easy to play. In addition to the Monarch, there are a couple of other unique special roles that are included in the deck. This keeps the game fresh from each game. The official rules call for a Moderator, and this is crucial to keep the Conspirators secret, but also serves as a way to allow storytelling and roleplaying.
Rulebook: I really liked the "rulebook" as the rules are actually just printed on the cards in the game. This makes the whole game extremely portable, as it is the size of a deck of cards. I would share more details about the rules, but the creator has asked me to keep the rules secret. You can find the game on the Game Crafter website here.
Spellslingers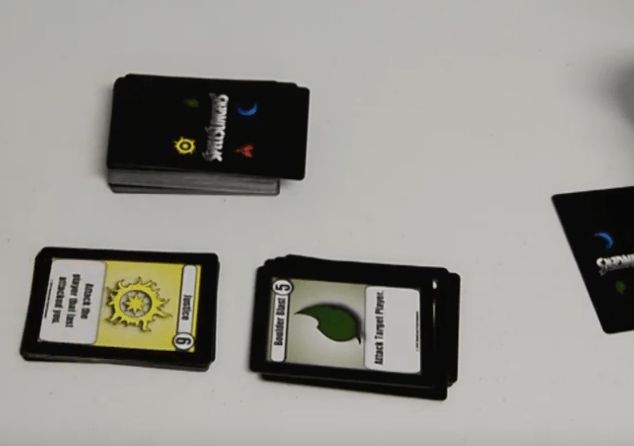 Spellslingers is a fast-paced card game where several wizards (2-10 players) compete to be the last wizard standing. This game was self-published through Kickstarter, but you can now find it on the company's website.
Each player starts with 5 cards in hand. Payers then take turns drawing 1 and playing 1. This makes it incredibly easy to pick up and start playing. However, there is more meat to the game than meets the eye. When another player plays a spell on you, you can block that attack by playing a spell of the same color OR a spell with a higher level. OR, you can take a total gamble by flipping over the top card of the deck, and if it is a valid block then you get to keep your life! I really love this mechanic because it provides a push-your-luck element where you may want to take a gamble, but risk losing the game. Once you get accustomed to the base game, you can add in special characters which can shake things up.
What I especially like about this game is the fact that it seems like it would play extremely quickly and not be a drawn out battle like a lot of other "quick" card games (such as Bang!). That's because players need to discard cards to block, so players will quickly lose cards from their hand and not be able to replenish them easily. However, I was initially very concerned about a stall strategy, since players can skip their turn and there is no hand limit. To make sure that this was not the dominant strategy, I took a closer look at some of the cards and was pleasantly surprised to find 2 things that counter that strategy completely. First of all, attacks seemed to generally be very efficient. Some of the attacks attacked twice, meaning that they would take 2 card to block. Other attacks attacked multiple players. Not to mention needing the correct type and/or sufficiently high level spell to block! This highly encourages players to take the offensive rather than the defensive. The second thing working against stall were many special effect cards, such as one that forced other players to discard cards until they matched your hand size. Due to the nature of the game being so dependent on the cards, it is difficult to say how the game might play just from the rules, but I imagine that this could be a very strong multi-player game. I'm looking forward to hopefully being able to play this game sometime!
Rulebook: The rules were short and to the point, and I was able to immediately grasp the core structure of the game. I also thought that the graphic design of the rules was excellent. You can read the rulebook yourself here. You can find Spellslingers on their website here.
Techlandia