Hey everyone! It's the 102nd post of this blog, which is absolutely mind-boggling to think about. That means that in the past year, I've been writing roughly 1 blog post for every 3 days! So today, I thought that I would share some of the statistics with you, which I have found very interesting. I'll include my thoughts on what worked, and what fell flat. Anyway, without further ado:
Top posts of all time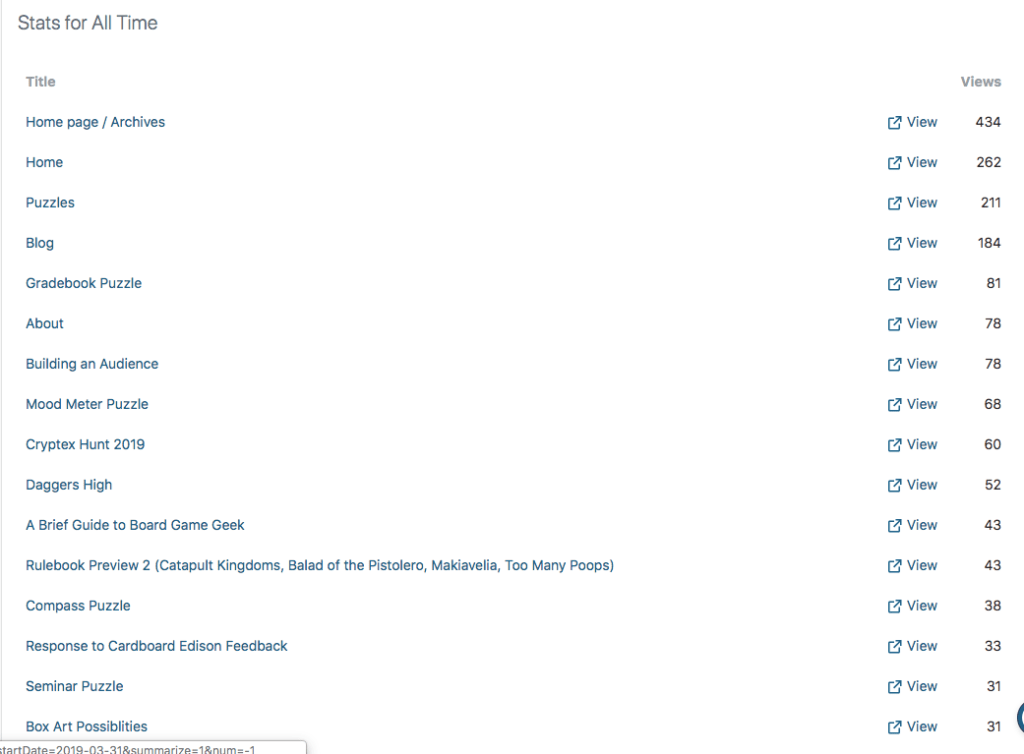 I was pretty surprised by these statistics, as a lot of the posts that I expected to do well did not do as well. While I didn't consider the puzzle pages as they were not blog posts, the puzzles were all very popular (hmm, maybe I should turn this into a puzzle blog?). Overall, there was a strong correlation between sharing posts through social media and the number of views they got. I found that posts that talked directly about Daggers High were not very popular, while posts that talked more broadly about the process of creating and/or advertising board games were very popular. I also found that I spent a lot more time writing more popular blog posts, which indicates that there may be some correlation between quality and views. My motivation for writing blog posts is to talk about what is on my mind at the time, and not for view counts. That being said, it is just as important to cater to you, my readers! I plan to take this information and write about topics that are more interesting to you.
Note: Today I added a "Popular Posts" widget in the footer, but since I just added it, it might not be accurate.
1. Building an Audience (78 views)
My top post of all time is… about building an audience! I find that funny for some reason, but reflectively it makes a lot of sense. A lot of people are looking for this kind of information, but currently there aren't a ton of resources out there to help people who are just getting started.
2. Cryptex Hunt 2019 (60 views)
This one was a surprising one to come in at #2, but I'm really glad that it did. I love this puzzle hunt, and it definitely deserves more recognition. Unfortunately, I haven't gotten around to finishing the hunt yet… the last few puzzles really ramped up in difficulty and there have been other things on my mind for this month.
3. A Brief Guide to Board Game Geek (43 views)
This post was a request, and it ended up being very popular! This one is in the same vein as the "Building an Audience" post in that it is a generally helpful post.
4. Rulebook Preview 2 (43 views)
This was another surprise for me, but I think that Rulebook Preview 2 in particular had a very strong group of games. That helped boost it to #4 on the list.
5. Response to Cardboard Edison Feedback (33 views)
I was very surprised by this article rounding out #5. I think that it was popular as it was a peek into how the Cardboard Edison contest works, and what the feedback really looks like. It also was interesting to people familiar with Daggers High.
Other popular articles:
6. Box Art Possibilities (31 views)
7. Official Rulebook (30 views)
8. Andrew Yang and UBI (30 views)
9. Why you should submit to the Board Game Workshop Design Contest (22 views)
10. Newly Drafted Events! (20 views)
11. Origin of Daggers High (18 views)
12. Event Cards Next Steps (17 views)
13. Lord of Colors PnP (16 views)
14. Childhood Suspicion Confirmed (16 views)
15. Daggers High at Polar Vortex 2019 (15 views)
Best Social Media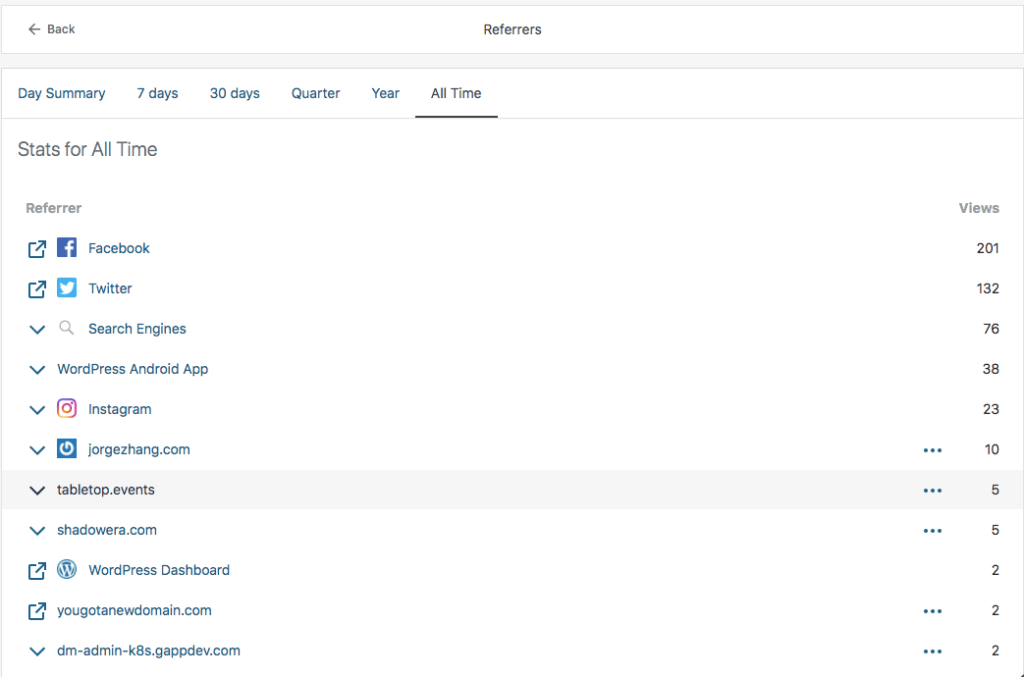 This one I never expected, and it means that I may have to take another look at my post about building an audience. Facebook was the best referrer by far, followed by Twitter and then search engines. This may have been in part due to the fact that I haven't been on Twitter as long as I have been on Facebook though, so it's hard to say whether Twitter will eventually surpass Facebook or not.
Monthly Popularity

This is another interesting metric, and it makes a lot of sense to me. I was posting a lot of puzzles around June, which is why the view count spiked at that time. I then made consistent daily posts from sometime in July to September. Then, I stopped making consistent posts, especially in November. This was because I was spending all my time preparing to print the prototype of Daggers High, which required a ton of work with preparing the digital files.
Starting in January, I started making sporadic posts again. February and March is when I started to realize the raw power of social media. I also started posting like crazy again, which certainly helped with numbers.
Thanks for reading!
You guys are why I write this blog, and I really appreciate you reading my posts! Any requests for new posts? Do some of these statistics interest you? Let me know in the comments below! Thanks for reading!