Influence Cards (Pt. 1)
August 10, 2018
Hey everyone! I have some new influence card designs for you to check out today!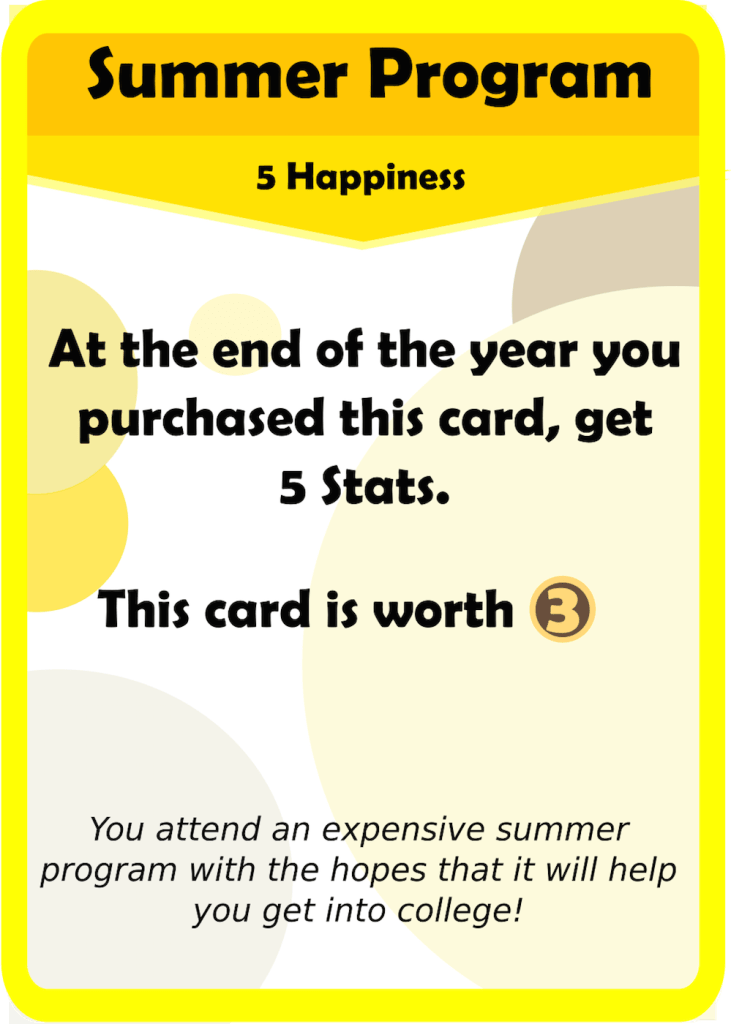 Summer Programs has always been a popular influence card, as it gives Stats and a RP bonus! However, I never felt that it was broken, because low happiness has to be addressed either with relax actions or chat -> +1 happiness. I also think that the delay of Stats makes this card harder to abuse since it requires one to temporarily fall behind.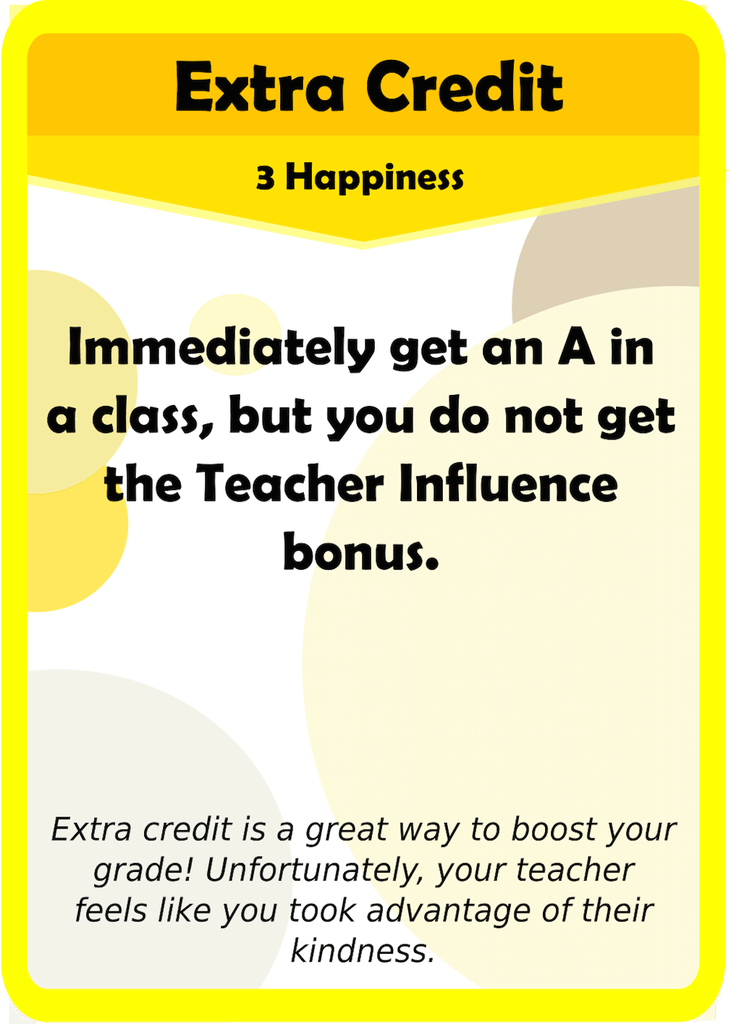 Extra Credit used to be a special action, but I discovered that players didn't really enjoy special action influence cards that much. Having to pay action points to use influence cards made them difficult to purchase, even if they were really good actions. Extra Credit in this form is still a solid card, and can net up to 3 RP. At the same time, 3 Happiness is a relatively low cost.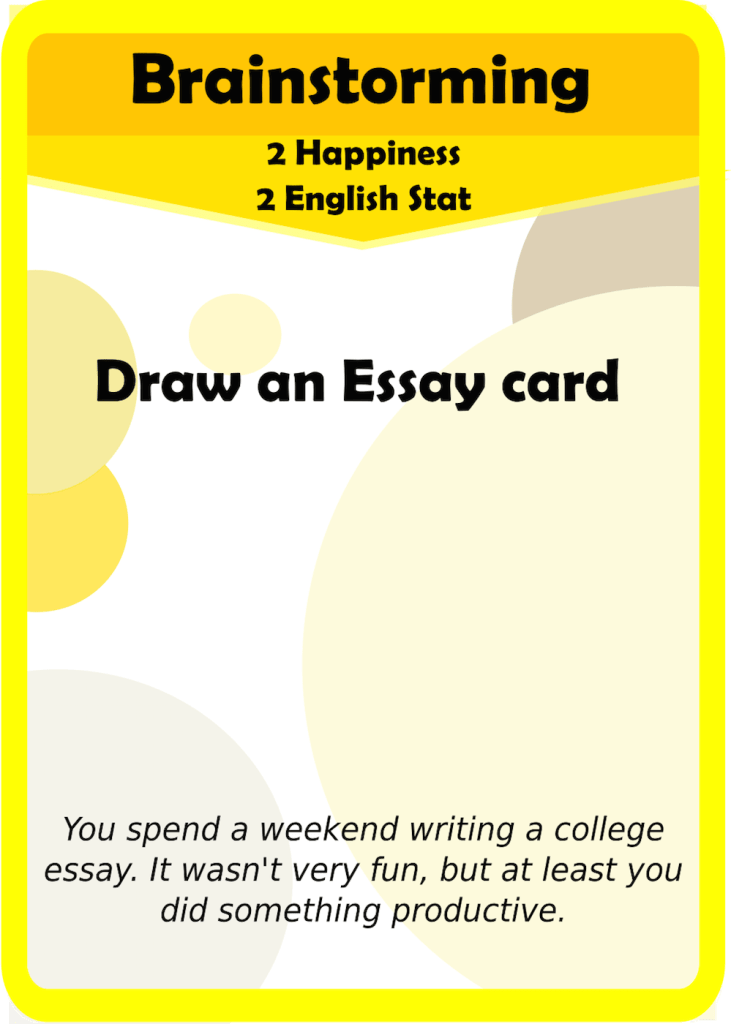 This is one of the newer Influence Cards. I felt that with the essay rework, a couple of influence cards that dealt with Essays were in order to make them feel more integrated into the game.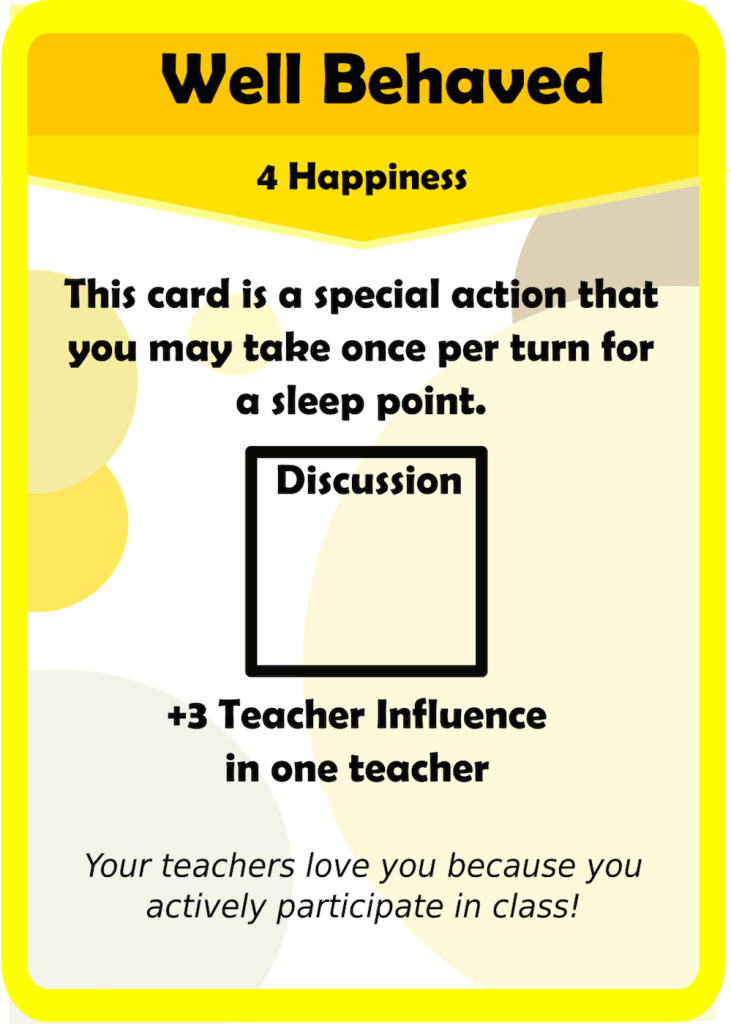 Well Behaved is a very strong special action that used to have a cost of discarding a card. I changed this to a 4 Happiness cost instead, since discarding a card was always somewhat awkward (both thematically and mechanically). A happiness cost makes more sense and is a more interesting trade off in my opinion since managing happiness is an interesting part of the game.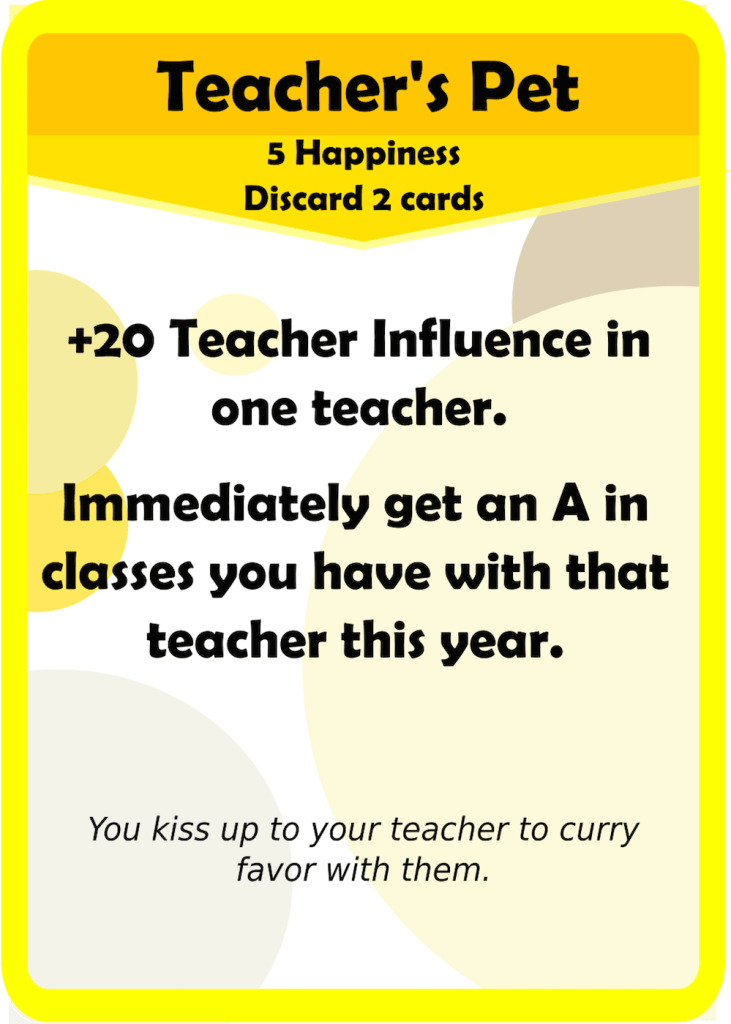 Teacher's Pet was always one of my favorite cards since it was hilarious and also very interesting mechanically. It can be used to grab a quick Rec or bust out a bunch of teacher abilities. Correcting a class to an A also creates an interesting decision between getting teacher influence/rec that is more relevant or grabbing a free A. Every time this card is brought, everyone suddenly wants to know what that player is up to. In a recent playtest, someone who had been bouncing around 3rd place for most of the game purchased this card to push himself to first place that put the whole table abuzz with talks of ways to work together to stop him. Overall, a solid card.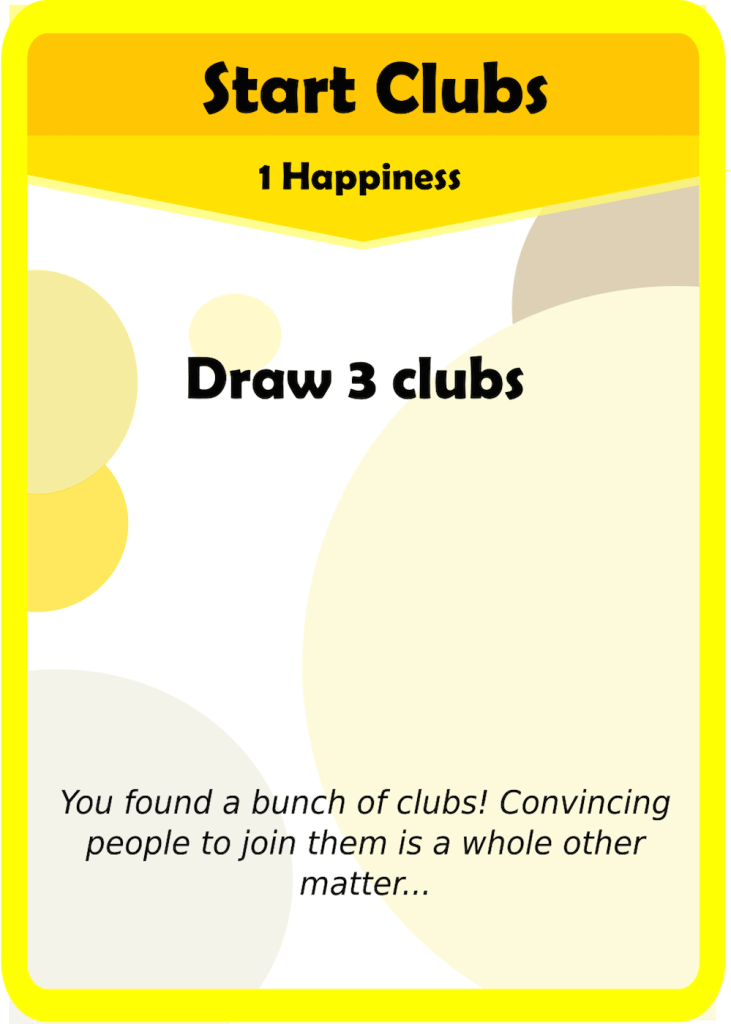 This being the cheapest of the pandering influence cards, Start Clubs is nice because it helps boost the club strategy. Especially in the early game, clubs are meant to be limited to force players to compete over obtaining them, or find ways to bring more out.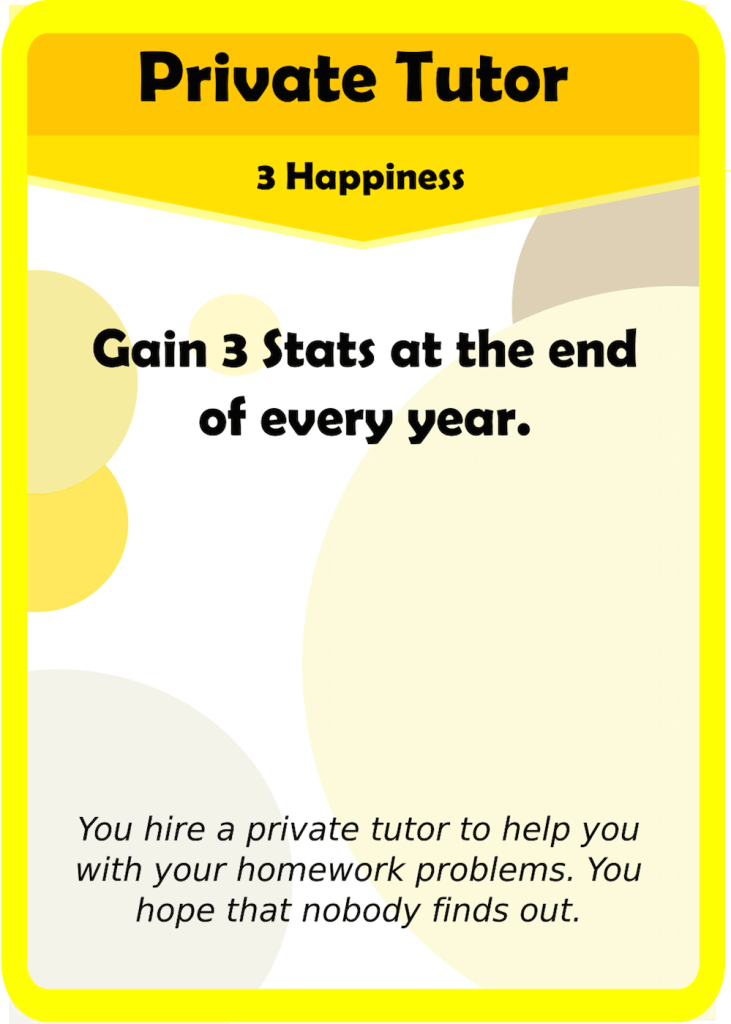 Private Tutor is another card that I feel is very strong, but not broken. While it provides a steady and reliable Stat income, losing 3 Happiness has to be addressed in some way, and the card brings in a max of 9 Stats for a player who purchases this card Freshman year.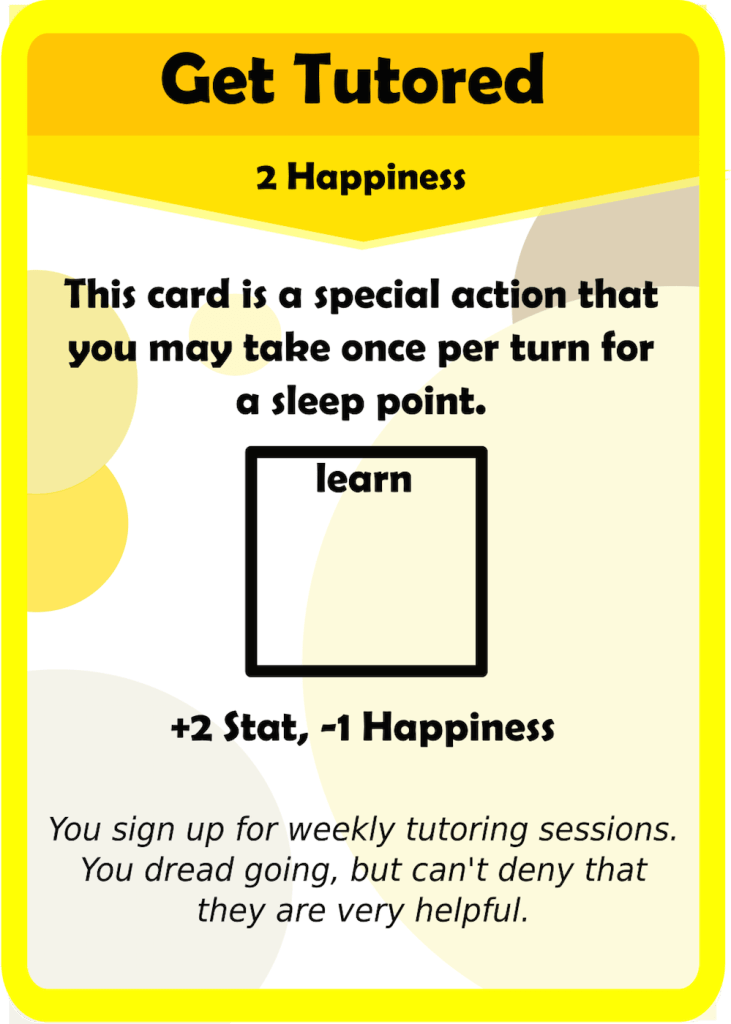 Get Tutored is the final card of the set: a special action that has been a classic since the introduction of influence cards. Obtaining the card costs 2 Happiness, and using the ability costs a Happiness as well. I enjoy the strategy behind this card a lot since I feel that it rewards players that can manage their Happiness well. I've seen it used to great use in the last year of the game, where low Happiness can usually be excused.
Let me know what you think in the comments! Make sure to subscribe if you enjoy this content!